Didar Masifi
Dmasifi289@yahoo.ca
Like todayís giant power September wasnít lucky month for the Kurdish poet Anwar Masifi, whose life all of sudden ruined and fell into a part similarly to a shaken bungalow under relentless hurricane. In a horrible car accident last week his wife and two of children are dead, and after being alive for one week suffering from sever injuries, today he died just whilst I was writing this word to honour him.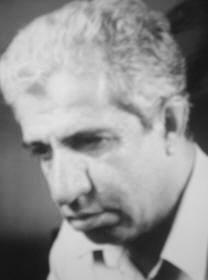 In Kurdistan, in spite of having no hurricane or other frightening and damaging natural disasters, unfortunately two things have a lion portion in taking peopleís life. And both like this unlucky poetís first name end by surprising ar. The first one is war which every decade dresses a different cloth, and in every occasion takes thousands of lives, starting with that angle like poisoned dead infant in Omer Khawerís dead arm to any unknown innocent granny who has been killed by a blind bullet of the Kurdish civil war. Additionally, car is the second one which competing with war in taking of precious people lives every day, like there have been a race between the W&C.
During his short period of life, Anwar Masifi decided to be anti both war and car. He was a peaceful independent person in the time of continuous wars in his motherland. And also he was known as a passionate pedestrian in his evening daily walks on the crowded and busy streets of summer. And just like what his first name ANWAR shows. That if its first part resembles a shrunken ANTI and the second one is obviously clear that what he was anti.
As a secluded outsider poet from the Seventies Kurdish poetry circle RWANGA. He delivered his witty peculiar ideas by using creative symbols and launching a war against propositions in the Kurdish literature. In his poetry he deeply believes in Nicheís philosophy and he thinks that propositions are obstacles in front superman like words.
Anwar Masifi wrote more than four books of poetry and many critical articles in literature. He was a sophisticated passionate quite man. I used to meet him in many occasions, and that because we both grew up in the same town. In secondary school he used to be our sport class teacher, and unlike most other sport teachers in those days. Instead killing the time of sport class by useless stuff, he was teaching us the strategies of the chess game, and some time revolutionary hot ideas.
Before starting to write these words, last week a friend of mine named Sardar phoned me just to say hi, and then our conversation on the phone suddenly jumped to a topic which most people are aware of it. Our topic for fifteen minutes was focused on comparison between the West and Kurdistan in the term of road conditions and numerous car accidents. Because I lost my beloved father in the car accident the subject didnít satisfied me and brought sharp pains into my heart. But I donít know why I started to talk about my uncle whose too was Anwar, and also about Anwar Masifiís uncle. Both used to drive long tank trailers to water the parks, and side road flower and plants of Salahadin in the seventies and eighties. I told my friend that in most times his uncle was drunk but never did any accident in his life, despite of zigzagged roads of Pirmam and bad gravel rods leading to water wells of Banaman. I have no idea why, this man and my uncle Anwar came to my mind. Moreover, why we had this kind of conversation that day!? But when for the next day and while I was checking the news, suddenly I fell into a deep grieve reading sad news about mamosta Anwar. Then I realized that there is A Nostradamos inside each of us.
Hastily, I phoned my friend the Kurdish poet Jalal Barzinji to tell him the news.
Since last year, Jalal and I have been working together to translate a bunch of the modern Kurdish poems by poets like Sherko, Pashew, FarahadPirbal, RfiqSabir, BaxtyarAli, Abdulmutalib, Dilshad Abdula, Qubad, Kazhal, and many others. And certainly Anwar Masifi also is in our list. Our purpose in this project is to introduce the modern Kurdish poetry to the English readers. For Anwar Masifi we selected a piece from Satan Anwarís latest book.
Now while writing these words to wail for him Iím bewildered why he chose this title for his last work.
After finishing from this writing I will call my friend Sardar to tell him the news and surprisingly ask him about our previous conversation on the phone, and also tell him that what elusive force brought the topic of car accidents into our mind.
However, before ending these urgent and wailing words I send my deep condolences to Anwar Masifiís family and
I share grieve with all people who have known Anwar Masifi by meeting him or through his works. And also criticize a bit the Kurdish newspapers and websites in their ignorance silence during Anwar Masifiís suffering moments in hospital.
All at all it is so sad hearing the news of his loss, Anwar Masifi was a great man and modern Kurdish poet.